Why is the Divorce Rate for Older Americans Still Increasing?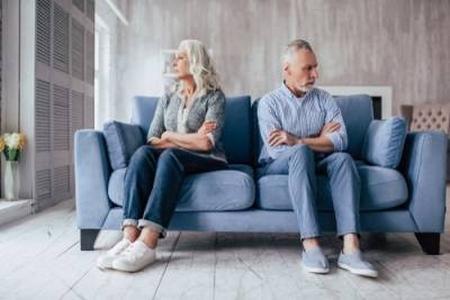 The divorce rate in America has long been a topic of interest, and in recent years, attention has turned to divorces involving Americans who are over the age of 50. While the overall divorce rate has been decreasing, the divorce rate for those who are age 50 and older has actually been increasing, according to the Pew Research Center. Since 1990, the divorce rate for adults aged 50 and older has doubled. When looking at just adults who are 65 and older, the divorce rate has nearly tripled since 1990. Researchers have speculated several reasons as to why the divorce rate is undergoing such an increase for couples in their golden years.
Older Americans Are More Likely to Be in a Second or Third Marriage
According to data from Pew, many adults in the Baby Boomer generation experienced divorce in their young adult lives back in the late 1970s and 1980s. Like many divorced people, a large number of Baby Boomers eventually remarried. Unfortunately, statistics show that second and third marriages tend to be much less stable and have a higher chance of divorce. Research shows that 48 percent of adults over the age of 50 who divorced in 2015 were in their second or subsequent marriage.
More Women Are in the Workplace Than Ever Before
Another reason that has been pointed out as potentially contributing to the higher divorce rate is women moving into the workforce. For many people in the Baby Boomer generation, women generally stayed in the home to care for the household while men worked and were the breadwinners. Now, there are more women than ever in the workforce, allowing women to gain a sense of financial independence, many of whom had never had it before.
Our Lifespans Have Increased
Some have speculated that the increase in life expectancy and the emphasis on fulfilling individual needs has also contributed to the gray divorce rate. Now that humans are living to an average age of 79, many older adults are realizing that now is the time of their life that they should focus on meeting their own needs and fulfilling their desires. Older adults are realizing that they do not want to be stuck in empty marriages for their remaining years.
Contact Our Wheaton, IL Gray Divorce Attorneys Today
In recent years, divorce has become more accepted by society as a viable option to end an unhappy marriage. If you have been contemplating a divorce, you should speak with our DuPage County gray divorce lawyers. At the Goostree Law Group, we will examine your entire case and help you understand the process and implications of a divorce later in life. To learn more about gray divorce or to discuss your situation, contact our office today at 630-634-5050 to schedule a free consultation.
Sources:
https://www.pewresearch.org/fact-tank/2017/03/09/led-by-baby-boomers-divorce-rates-climb-for-americas-50-population/
https://academic.oup.com/psychsocgerontology/article/67/6/731/614154