400 S. County Farm Road, Suite 330, Wheaton, IL 60187
630-634-5050

Tips for Men Over 50 Who Are Coping With an Illinois Divorce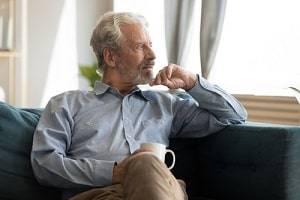 The rate of divorce for older couples has grown over the past decade, resulting in the term "gray" divorce. Considering a divorce at any age can be scary, but for those couples who are 50 and older, it can be downright daunting. Spouses who have been married for 25 years or more often have a lot of baggage, as they say. They may have acquired a lot of marital property and assets, all of which will need to be divided if they choose to part ways and legally end the marriage. Illinois is an equitable distribution state, which means any property obtained after the wedding will need to be divided fairly based on several factors. However, in some cases, that might be the easy part. Moving on emotionally can be difficult, regardless of gender. Even though the stereotype is that they are supposed to be the stronger sex, men often have a harder time suddenly adjusting to single life after so many years with a partner.
Moving On at Midlife
Once they reach their 40s and 50s, many people take a look at how their lives have turned out. Often considered a "midlife crisis," men and women alike often find themselves unhappy or disillusioned about what they have accomplished thus far, personally and professionally. In a lot of these situations, their kids are all grown and off to college or living on their own. In some cases, these "empty nesters" realize that they have nothing in common anymore and decide to part amicably. However, sometimes the wife files for divorce, leaving her husband dumbfounded. He may have been too busy pursuing his career to notice that their relationship was deteriorating beyond the point of repair. Below are a few practical tips for men who are facing life after a gray divorce:
Get enough sleep: Health experts stress that people of all ages need an adequate amount of sleep to function on a daily basis. They recommend 7-9 hours of sleep every night for adults over 50 years old. Being rested helps your physical and mental state.

Exercise: Anything you can do to get your heart rate up can improve your physical strength and stamina. Physical activity can help alleviate the signs and symptoms of depression after the loss of a long-term relationship.

Eat and drink healthy: It can be tempting to eat comfort or fast-food if you are not used to cooking for yourself. Eating a fiber-rich, high-protein diet and drinking lots of water helps in maintaining your health well into your 50s and beyond.

Reconnect with your children: If you had kids later in life, they may still be in high school or college when you divorce in your 50s. Set aside time to spend with them and attend as many of their extracurricular activities as you can to show you care. Even if they are adults now, ask them to meet you for dinner or join you in a round of golf. Keeping the lines of communication open can enhance your relationship with your children, regardless of age.

Engage in hobbies: Joining a men's group at church or through your local park district can keep you busy if you are not working. Many of these groups have sporting events, fishing trips, or game nights where you can meet new friends who enjoy similar interests.

Start dating: Even though beginning a new romantic relationship might be the furthest from your mind, at least consider the possibility of dating. Be open to friends or family members who may want to set you up. You may realize that you can find love again, even this late in the game.
Contact a Kendall County Divorce Lawyer
Although it may seem intimidating, divorce after 50 can signal the beginning of your next chapter in life. In many cases, it is long overdue if you were unhappy for many years. A knowledgeable Yorkville divorce attorney can help you navigate the legal proceedings with ease and confidence so you can concentrate on your mental well-being. At the Goostree Law Group, we will make sure your rights are protected so you receive a fair settlement. Call us today at 630-634-5050 to schedule a free consultation.
Sources:
https://www.wsj.com/articles/the-divorce-rate-is-at-a-40-year-low-unless-youre-55-or-older-11561116601#:~:text=After%20that%2C%20the%20rates%20of,the%20baby%20boomers%2C%E2%80%9D%20Dr.
https://www.ilga.gov/legislation/ilcs/ilcs4.asp?ActID=2086&ChapterID=59&SeqStart=3700000&SeqEnd=5200000