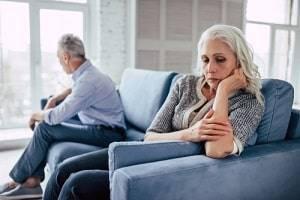 Over the last few decades, the number of gray divorces has doubled. But sometimes when you are 50 or older, the thought of getting a divorce and restarting life without the support of a spouse is not something either of you truly wants. Never is this truer than when the two of you consider your finances and other benefits implicit in your marriage that would disappear upon divorce. It might not always be worth relinquishing all of that financial security due to something as minor as not having much to discuss over the dinner table now that the kids are grown up and out of the house. In those cases, you might want to consider the following alternatives to divorce if you are 50 or older.
4 Alternatives to Gray Divorce
If your marriage is less-than-perfect these days, that does not necessarily mean that you have to get a divorce. You have other options, including:
Marriage Counseling—This is the most common resolution that many married couples, both old and young, pursue to save their marriages. It improves communication and allows the two of you to forgive each other for any major issues you have, such as infidelity or dishonesty.

...