Signs Your Teenager May Be Struggling With Your Divorce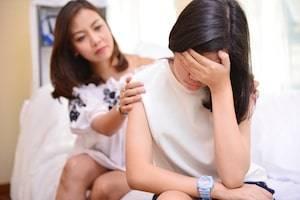 Depending on when you and your spouse decided to have children, you may be nearing retirement age and still have teenagers at home. This is especially common for couples who have a larger number of children, and it can create unique challenges if you and your spouse opt to end your marriage through divorce.
According to recent studies, about one in four teenagers whose parents are going through divorce suffer from issues like depression or reckless behavior. Unlike younger children, who may become clingy during a divorce, teenagers will often distance themselves and keep their emotions tight to appear mature and in control of the situation. Teenagers are old enough to understand the world, but they still require the care of a parent. Given the turbulence that already comes with the adolescent years, divorce can be especially stressful for teenagers.
Is My Child Stressed?
Teenagers usually have the language skills to discuss how they feel, but they will rarely do so without prompting. There are short-term effects from divorce that are to be expected in any child, such as sadness, guilt, and anger. However, parents should also be aware of the long-term issues that may arise. Some signs to look out for include:
Difficulty sleeping - Your teenager might have a hard time falling asleep or staying asleep as they deal with the stress of your divorce. Since teenagers are still growing, they require more sleep than adults do—up to nine hours a day, according to medical experts. If your teenager is not sleeping well, you may notice signs like clumsiness, irritability, and difficulty with concentration.

Depression - The best thing you can do for a child with depression is to recognize the symptoms. If your child does not seem to be his or her "normal" self for long periods of time, he or she may be depressed. A depressed teenager may withdraw from friends and family, appear hopeless, and express dark thoughts about death or self-harm.

Bad grades - Has your A student become a C student? He or she may not be coping well with your divorce. It is challenging for children in school to adjust to lifestyle changes that require being studious in two locations. No matter what decisions are made about the allocation of parental responsibilities, it is important to maintain consistent rules about academics between households. Help your child by encouraging your ex to be equally involved in his or her education.

Reckless behavior - All teenagers are likely to disobey their parents to some degree, but rebelliousness can become a problem if they are putting themselves or others at risk. Behaviors to watch out for include substance abuse, careless operation of a vehicle, or unprotected sexual activity. If your child is being reckless, he or she may not know how to handle their emotions about the divorce or may be acting out for attention.
Even though a teenager may distance himself or herself from you during your divorce, most teens will still mimic the actions and behaviors of their parents. Use this opportunity to teach your child about managing new situations and practicing self-care. Be a person that your child can look up to and take an example from. This includes talking about your ex in a positive light, avoiding using your child for emotional leverage, and managing stress in healthy ways.
Get in Touch With a DuPage County Older Divorce Attorney
At Goostree Law Group, LLC, our experienced Wheaton divorce over 50 lawyers can help ease the emotional distress of divorce by helping you work toward an outcome to your case that protects your best interests and those of your children. Set up a free consultation by calling our office at 630-634-5050 today.
Sources:
https://www.verywellfamily.com/effects-of-divorce-on-teens-2609530
http://understandingteenagers.com.au/blog/the-dos-donts-of-helping-teens-during-divorce/