Do I Have Any Options Other Than Divorce If I Am 50 or Older?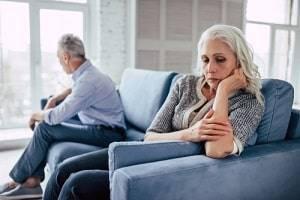 Over the last few decades, the number of gray divorces has doubled. But sometimes when you are 50 or older, the thought of getting a divorce and restarting life without the support of a spouse is not something either of you truly wants. Never is this truer than when the two of you consider your finances and other benefits implicit in your marriage that would disappear upon divorce. It might not always be worth relinquishing all of that financial security due to something as minor as not having much to discuss over the dinner table now that the kids are grown up and out of the house. In those cases, you might want to consider the following alternatives to divorce if you are 50 or older.
4 Alternatives to Gray Divorce
If your marriage is less-than-perfect these days, that does not necessarily mean that you have to get a divorce. You have other options, including:
Marriage Counseling—This is the most common resolution that many married couples, both old and young, pursue to save their marriages. It improves communication and allows the two of you to forgive each other for any major issues you have, such as infidelity or dishonesty.

Renegotiating or Creating a Postnuptial Agreement—One of the most common reasons for the spike in gray divorces over the last several years is many women have amassed greater professional experience, earning potential, and wealth outside of their marriage. In that sense, if you had any prenuptial agreements, they might not be as applicable anymore, which is why you should consider renegotiating the terms. If you did not have a prenup, you might want to put together a postnuptial agreement, especially if one of you is in a much better place financially these days. Updates to the terms of your marriage contract could also make the marriage more palatable to you both, especially now that your parenting responsibilities are much more limited.

Living in Separate Homes—Sometimes you still love someone or at least you still want to stay married to someone for the sake of honoring the vows or continuing to receive the benefits gained through marriage, but you crave independence from that person. Living in separate homes or apartments could help give you both the freedom you need to pursue your personal interests without jeopardizing your marriage.

Allowing an "Open Marriage"—While it might seem taboo, especially for this age group, an "open marriage" might be a good idea. If both of you no longer have sexual desire or an emotional connection with one another, then an open marriage would allow you both to fulfill your physical and romantic needs without losing the security and companionship of your legal union.
Contact a Wheaton Divorce Lawyer
It might seem like everyone you know is getting a gray divorce these days, but you do not have to feel pressured into it, especially if you and your spouse are good at communicating and making compromises. In those cases, you have some options other than gray divorce. If, however, you do not want to attempt any of those alternatives or you both try without much success, then consult with an accomplished DuPage County divorce attorney by calling 630-634-5050 for a free consultation. The skilled professionals at Goostree Law Group know how best to handle gray divorces.
Sources:
https://www.ncbi.nlm.nih.gov/pmc/articles/PMC6450723/
https://www.forbes.com/sites/margueritacheng/2019/02/26/grey-divorce-its-reasons-its-implications/#1c5c6554acd4
https://www.kiplinger.com/article/retirement/t065-c032-s014-the-rise-of-gray-divorce-why-and-why-not.html