Can I Keep Our Home After Our Illinois Divorce?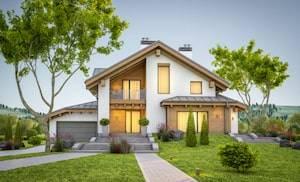 For many divorcing couples, one of the most contentious issues is figuring out which spouse will keep the marital home or if keeping the home is even possible. The financial aspect of the decision is also important. When you share a mortgage with your spouse, ending his or her responsibility is not quite as easy as taking your spouse's name off the loan. If you wish to keep the house, you will likely need to get a mortgage in your name alone, which could take months or years to do. This can present especially difficult challenges if you are getting divorced as you approach retirement as well, so it is important to plan properly.
Is Keeping the Home Even Reasonable?
Your marital home is likely to have a great deal of sentimental value, particularly if you raised your family in that house. It is understandable that you might want to keep the home following your divorce, but the first question you should ask yourself is if it is reasonable for you to stay in the home. For example, if your marital home is a large, 4-bedroom house on several acres, do you really want to live there and care for the property on your own? If your children are still teens and would be living with you, that is one thing, but if they have grown up and moved to various parts of the country, could you handle the responsibilities of managing the home alone?
Assuming you still want to stay in the home, the next question is one of finances. Can you afford to keep the house? In making your decision, you will need to take a close look at what your financial situation will look like in the wake of your divorce. From now on, you will need to support yourself—possibly with the help of maintenance payments, but maybe not. Remember that owning the home on your own means more than paying the mortgage. You will also need to have enough income to cover utilities, taxes, repairs, insurance, and many other home-related expenses.
Negotiating for the Home
Your marital home is likely to be one of the most valuable assets under consideration in your divorce, and there is a good chance that the entire value of the home—or at least almost all of it— is marital property under Illinois law. This means that if you wish to keep it, you will probably need to offset your spouse's portion of the home by offering some type of compensation. For example, you might need to offer your spouse a larger share of your retirement savings, or you might draw on the equity of the home to buy out your spouse's interest. Either way, keeping the home will almost certainly require you to take out a new mortgage that lists you as the only borrower.
Taking out a new mortgage can be difficult, depending on your credit history and current employment situation, and complications can arise. For example, if you cashed out equity to buy out your spouse, your mortgage payments could jump to a level you are not able to afford right now. In such a case, you might need to find ways to increase your income before you finalize the deal. Your divorce settlement could be set up in such a way that it gives you a certain amount of time to figure out how to keep the home, but you will want to get everything done as quickly as possible so that you and your spouse can both enjoy financial security.
Call a Wheaton Older Divorce Attorney
We understand why keeping your family home can be an important request throughout the asset division process. If you would like to learn more about your options for keeping your marital home in your divorce, an experienced DuPage County over 50 divorce lawyer from Goostree Law Group can help. Call 630-634-5050 for a free consultation today.
Sources:
https://loans.usnews.com/articles/how-to-get-a-mortgage-after-a-divorce
https://www.ilga.gov/legislation/ilcs/ilcs4.asp?DocName=075000050HPt%2E+V&ActID=2086&ChapterID=59&SeqStart=6100000&SeqEnd=8350000