2100 Manchester Road, Suite 908, Wheaton, IL 60187
630-634-5050

3 Factors Making Gray Divorce More Common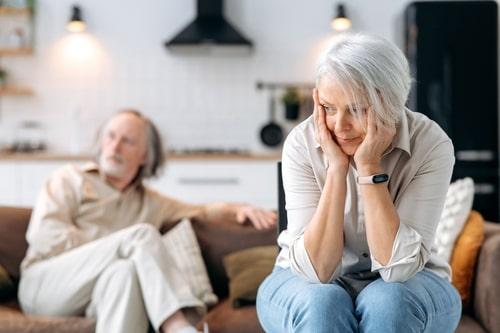 If you are older than 50 years old and considering divorce, you may feel alone. You may have had friends who got divorced when they were in their twenties and thirties, but you may not know any other couples your own age going through a divorce. While gray divorce can be somewhat more complicated, it is also increasingly common. There are also perks of gray divorce - it is less likely that you will need to worry about child custody concerns, for example. More and more couples are choosing to divorce later in life and start over. While it may be challenging to get divorced at this age, especially if your marriage lasted decades, many older adults find that it is well worth it to be able to live the life they want to, free of an unhappy marriage. There are a number of reasons that an ever-increasing number of adults over the age of 50 are getting divorced, some of which may surprise you. If you are considering a divorce, it is important to work with an attorney who has experience addressing the unique divorce concerns of older couples.
Why is Gray Divorce Becoming More Common?
A number of societal and economic factors have contributed to the rise in gray divorce. Today, nearly one in four people who gets divorced is over the age of 50. A few factors that may partially explain this increase may include:
Longevity - People are simply living longer and staying healthier for longer. Many older adults still enjoy going out and socializing or engaging in hobbies, giving them new opportunities to meet people and enjoy life. Where decades ago, a 55 year old was likely ready to retire, a 55 year old today may be at the peak of their career - or young enough to reenter the workforce after years as a homemaker.

Changing attitudes toward divorce - In the past, divorce was heavily stigmatized. It was considered somewhat shameful for spouses to split, and many felt pressured to stay in their marriages for the purposes of social acceptance. This is quite different now, with divorce having become far more likely and accepted at any age.

Aging population - The average age of the population has risen, in part due to increased longevity. The simple fact that the average citizen is now older means that a higher proportion of divorcees will be over 50 years old.
If you are considering getting divorced at this age, you are in good company. Gray divorce is increasingly common and accepted.
Contact a Kane County Gray Divorce Attorney
Divorce Over 50 - Goostree Law Group has a unique focus on divorce for older adults. Our experienced team of Kane County gray divorce lawyers will strive to help you get the fresh start you are hoping for. For a complimentary initial consultation, please contact us at 630-634-5050.
Source:
https://www.ncbi.nlm.nih.gov/pmc/articles/PMC6450723/