What Is Dating Like After Getting Divorced in Your 60s?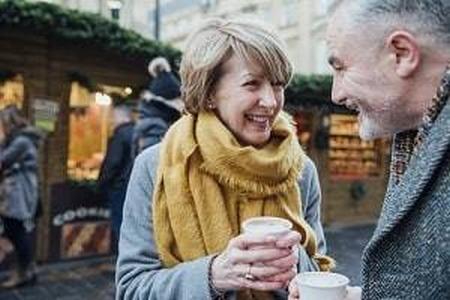 More than one-third of Baby Boomers currently unmarried, and many of them have gotten divorced now that their kids are grown up. These days, it is easy to see that dating is no longer just a common practice for young people looking to have fun or looking to find "the one" with whom to settle down and start a family. It might seem challenging and intimidating, but dating after getting divorced in your 60s is possible—and you might even thrive while doing it.
3 Ways Dating After Getting Divorced in Your 60s Is New and Different
The end of your marriage late in life does not mean you will be unable to find a partner. It also does not mean that you have no options when it comes to dating. The truth is, dating after getting divorced in your 60s opens up a world of possibilities for you. However, in order to take full advantage of this potential, you need to prepare yourself for the following new and different aspects of dating, as outlined below:
Methods of Dating—When you were in your 20s and 30s, blind dates set up through friends or meeting at bars and other social venues were some ways of finding the right partner. These days, though, online dating is the most common method of meeting people. With your social circle significantly smaller as a 60-something, it is less likely your friends, family, and acquaintances will know anyone who is available to "set you up with." If online dating and dating apps are not something you want to use, you may want to consider joining clubs and organizations for people your age.

Dating Behaviors—Years ago, the man was expected to pay for everything, be it the dinner, the event, or any other activity during the date. These days, while chivalry is not entirely dead, it is a standard practice for both parties to share dating expenses evenly. In addition, many of the usual social mores that you may have followed when dating while you were younger are no longer necessary, such as keeping sex out of the discussion and off the table throughout the stages of courting.

Expectations—Now that you have already been through a divorce, you likely have a better understanding of who you are and what you want. Your dating philosophies and expectations from your younger years are well behind you. Since the pressure of starting a family is gone, you may feel more free to have fun and be more casual with dating. As such, what you were looking for in a partner back then may no longer be relevant. You may need to adjust your perspective. A partner your age will not necessarily have the same qualities you sought in a partner before you were married.
Ultimately, with all these new adjustments you will have to make as a 60-something in the dating world, there are still plenty of things that have stayed the same. These may include anxiety and uncertainty about your first date, eager anticipation for your next date, and excitement surrounding all the experiences you might have as a couple. You might even feel a sense of freedom you have not felt in years as you re-enter the dating world and try to find a romantic companion.
Contact a Wheaton Divorce Lawyer
Dating does not have to end in your 60s. There are plenty of opportunities for fun and excitement with dating, regardless of your age. If you and your spouse are in your 60s and are considering divorce, reach out to a DuPage County gray divorce attorney. The knowledgeable team at Goostree Law Group will skillfully handle your divorce so you can both start to envision dating again. 630-634-5050 for a free consultation.